ITF 2023 Summit: Transport Enabling Sustainable Economies

The 2023 ITF Summit on Transport Enabling Sustainable Economies will take place from 24 to 26 May 2023 in Leipzig, Germany, under the Presidency of the United Kingdom.
Summit participants will have the chance to reflect and share perspectives on the role of transport as an enabler of economic growth whilst driving environmental and social sustainability.
Transport can provide access to economic and social opportunities for individuals and businesses. Transport services and infrastructure can open new markets and enable trade flows, and for individuals, it can increase access to employment, education and other public amenities and services. However, in order to create sustainable economic growth, transport needs to enhance social welfare, provide benefits to society and promote inclusion, while minimising adverse outcomes such as traffic congestion, air and maritime pollution and road crashes.
The central role transport plays as an enabler of sustainable economies and societies has been brought to the fore by the Covid-19 pandemic. The current geopolitical crisis, uncertain economic outlook, the surge in energy and commodity prices, renewed supply chain disruptions, and acceleration of climate variability put further pressure on transport systems.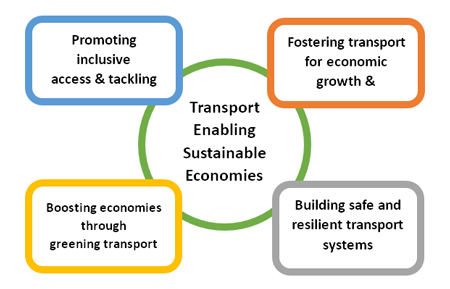 The full 2023 programme will be available soon.
Take a look back at the most memorable moments of the 2022 Summit with the Summit Highlights video
A summary of all substantive outputs from the 2022 Summit, including session summaries, video recordings, photos, and other resources are available on the 2022 website.
Subscribe to ITF Summit Updates