Latvian Railways join ITF Corporate Partnership Board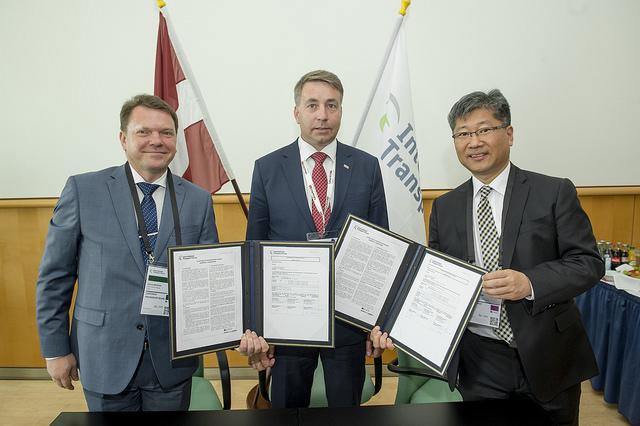 The International Transport Forum (ITF), the world's only global and all-modes transport body, announced that Latvia's state-owned railway company Latvian Railways has joined the ITF's Corporate Partnership Board (CPB). As a CPB member, Latvian Railways will collaborate with other corporate partners to work on projects including decarbonising transport and new mobility.
Latvian Railways president Edvīns Bērziņš and ITF Secretary-General Young Tae Kim signed the agreement at the recently held Annual Summit of the ITF in Leipzig, Germany in the presence of Latvia's Minister of Transport Uldis Augulis (photo, centre). 
Latvian Railways is the national railway infrastructure manager and the leading railway logistics provider in the Baltic States. With more than 10 000 employees and partnerships throughout Europe and Asia, it provides freight transport services creating an outstanding regional logistics hub at the Baltic Sea. 
The ITF is an intergovernmental organisation with 59 member countries that facilitates global dialogue for better transport. It acts as a think tank for member governments and organises an annual summit of transport ministers. The Corporate Partnership Board (CPB) is the ITF's platform for engaging with the private sector and enriching global transport policy discussion with a business perspective.
Young Tae Kim, Secretary-General of the ITF, said:
"We are pleased to welcome Latvian Railways to the Corporate Partnership Board of the International Transport Forum. Throughout the year of Latvia's presidency of the ITF, Latvian Railways has proven to be a key partner. Their official place as a member of our Board seems natural and we look forward to expanding on discussions already in progress."
Edvīns Bērziņš, Latvian Railways' President and Chairman of the Board, said:
"The transport industry has seen significant change in recent years. New, innovative logistics solutions are being developed and the traditional method of building relationships with only neighbouring transport companies is no longer sufficient. Participation in the Corporate Partnership Board provides an excellent opportunity to collaborate not only with companies of the transport industry from around the world, but with representatives of other sectors, the operation of which has a significant effect on the future development of transport."
The members of the ITF Corporate Partnership Board are: Abertis, AB InBev, Alstom, Aramco, Bosch, Brisa, ExxonMobil, Ford, Incheon International Airport, Kapsch TrafficCom, Latvian Railways, Michelin, NXP, PTV Group, RATP Group, The Renault-Nissan-Mitsubishi Alliance, SAS, Siemens, SNCF, Total, Toyota, Transdev, Uber, Valeo, Volvo Cars, Volvo Group and Waymo.
More information about the ITF's Corporate Partnership Board is available at www.itf-oecd.org/CPB 
Media Contact: Michael Kloth, +33 (0)1 45 24 95 96