Safer City Streets Network: 4th meeting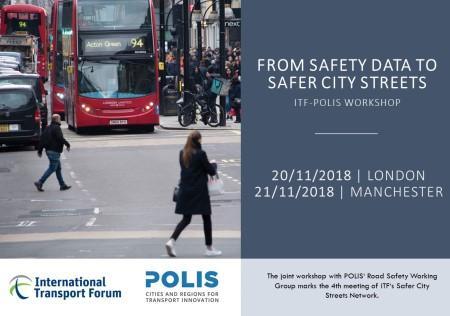 The ITF Safer City Streets initiative offers a platform for road safety experts to share their experience and build a global dataset at city level.
A full network meeting took place in London, UK, on Tuesday, 20 November and in Manchester, UK, on Wednesday, 21 November 2018. The meeting was jointly organised by the POLIS network and by the ITF, in coordination with the POLIS conference (Manchester, 22-23 November). The meeting reviewed recent key developments in relation to urban road safety policies. Parts of the agenda were dedicated to cycling safety, risk indicators, mobility statistics, crash data systems, health data sources and road safety action plans.
The Safer City Streets initiative was launched in October 2016 at the UN Habitat III Conference. Thanks to the support of the FIA Road Safety Grant programme, as well as the support from the International Traffic Safety Data and Analysis Group (IRTAD), it has grown rapidly to include over 40 cities and offer a global database for road safety performance.
Back to Safer City Streets